Western Pennsylvanian Railroads
Monongahela Connecting RailRoad
by Carsten S. Lundsten
Updated 2008-02-03
---
This is an unofficial Monongahela Connecting Railroad railfan page. This page has no affiliation with the Monongahela Connecting Railroad, LTV Steel, the Allegheny Valley Railroad or Carload Express Inc. Since 2003 the Monongahela Connecting Railroad has been part of the Allegheny Valley Railroad, who's official website (by owner Carload Express Inc) is
here
.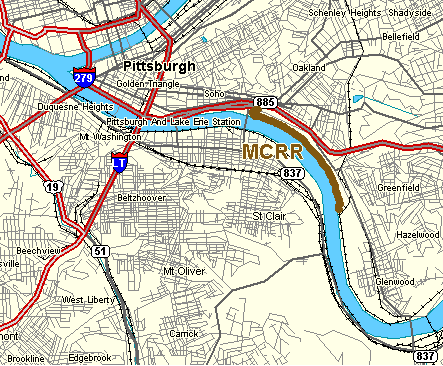 The former Monongahela Connecting RailRoad ("The MonCon") is a 2-3 mile industrial railroad located near Downtown Pittsburgh. While I stayed in Pittsburgh from 1999 to 2000, the MonCon was owned by LTV Steel. After the LTV Steel bankrupcy the MonCon in 2003 became part of the Allegheny Valley Railroad (AVR). In its heydays the MonCon was the in-plant railroad of the Jones & Laughlin Steel Works, located on both sides of the Monongahela River in the Oakland/South Side neighborhoods.

The former MonCon served only one customer, Metaltech, delivering steel coils a few times a week.
The MonCon interchanged at its southern end with the CSX at Glenwood Yard, Metaltech is located at the northern end of the line. A little locomotive rebuilding company, Damien-Hanz, was located at the southern end of the MonCon.

While in Pittsburgh, my office window at Union Switch & Signal was only about 50' from the MonCon tracks. Even so, it took months before I saw the MonCon operate - I later found out that they prefered to operate in the very early morning (around 6) and also often in weekends.
The former MonCon is now served by an AVR yard job from Glenwood Yard every night, Sunday through Friday. The track has been rebuilt from it's very worn out condition so the many derailments are now a thing of the past. Unfortunately I have not been able to railfan the former MonCon after year 2000 and thus not while being served by the AVR.

---
| | |
| --- | --- |
| | My first look at the operating MonCon was this. The four loaded coil cars were derailed and now the two locomotives are trying to re-rail the train. This photo was shot right outside my office window. |
| | One rail had flipped over and the MonCon crew had blocks placed to allow the cars to be pulled up on the rails again. |
| | Re-railing the train wasn't easy. The rail that had flipped over kept giving in as the wheels landed on the rail head. Eventually they succeded but there's no doubt that the MonCon people had preferred less spectators... |
| | The two locos pulling hard; number 1001 keeps loosing its grip on the rails. |
| | On January 31st, year 2000, I drove by the Hazelwood area and found the MonCon sitting with 4 coil cars. I grabbed this shot through the fence and went to Metaltech to wait for him. |
| | Here he's pulling cars out of Metaltech after them being unloaded. |
| | The MonCon ends just before the Birmingham Bridge. A little stub track towards the river holds the rest of the train while cars are being delivered to Metaltech, two at a time. |
| | The switch to the stub track. And in the background the "Hot Metal Bridge" that used to provide rail connection between the two halves of the Jones and Laughlin mill that the MonCon used to serve. |
| | Another winter day at Metaltech, in mid February 2000. |
| | Another early morning. The MonCon train is getting ready to pull back "home" after delivering steel to Metaltech. |
| | Same train. The bridge in the background is the "Hot Metal Bridge" where in its heydays the MonCon used to haul molten steel across from the J&L blast furnaces here to the foundry on the South Side. The Hot Metal Bridge has recently been converted into a road bridge. |
| | Well - maybe it was unfair to start these pictures with a derailment. I don't know for sure if this is another one but this late spring day (in 2000) the MonCon sat at Metaltech with one of the pickup trucks and people working on the track in front of it. Meanwhile trucks with coil deliveries had to try to make their way around the train... Since then the track has been rebuilt and derailments are now a rare event. |